My partner , Joe Crumley wrote about the issue with the licensing or lack thereof by New England Compounding Center (NECC). The distributor at the heart of the Meningitis outbreak from steroid injections. Beyond the license issue, there are now questions about the distribution itself. It is being reported that there was distribution of the drugs without patient names or prescriptions. This is a violation of Massachusetts law.
Apparently, there is also information that business was referred to a sister company, Ameridose LLC. Ameridose is claiming that the two operated separately. Both companies are owned by engineer, Gregory Conigliaro, and his brother-in-law, Barry Cadden, a pharmacist. Cadden was in charge of pharmacy operations at NECC. Ameridosa is closed and under investigation.
Update: It is now being reported that NECC has also provided drugs to Mayo Clinic, Allina, HealthPartners and other hospitals and clinics — many more than previously disclosed.
In response to the outbreak, a lawsuit has been started here in Minnesota and is reported to be seeking class action status. As fellow Legal Examiner writer, Tracy Finken, pointed out:
The federal lawsuit may be the first in response to the outbreak. The woman claims she experienced headaches and nausea after receiving methylprednisolone acetate injections for chronic back pain. The Minnesota Department of Health later informed her that she may have received a contaminated shot. She has since undergone a painful spinal tap to test for fungal meningitis.
Thousands of people nationwide have been exposed to the tainted steroids, with 119 contracting fungal meningitis including 11 deaths. Over 800 Minnesotans have been notified that they have received the potentially contaminated steroids this summer, as I wrote previously.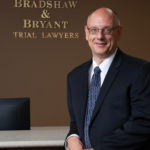 A founding partner with Bradshaw & Bryant, Mike Bryant has always fought to find justice for his clients—knowing that legal troubles, both personal injury and criminal, can be devastating for a family. Voted a Top 40 Personal Injury "Super Lawyer"  multiple years, Mr. Bryant has also been voted one of the Top 100 Minnesota  "Super Lawyers" four times.