Christopher Iverson, a 48-year-old south Minneapolis resident, was critically injured at a bus stop early Sunday morning, according to a Star Tribune report. Iverson was chatting with a woman at the bus stop, Cheryl Gouge, when the defendant driver drove up over the curb and literally knocked him out of his shoes. At least one witness reported the defendant smelled of alcohol, and Minneapolis Police department spokesman Sgt. William Palmer said alcohol was believed to be involved.
Iverson had ridden his bike out an errand, and had apparently just walked Ms. Gouge to the bus stop when the tragedy occurred.
Iverson, a 48-year-old south Minneapolis resident, was in critical condition Sunday at Hennepin County Medical Center with brain damage and other injuries, said his brother-in-law, Bill Breeggman. Family members expect to decide soon whether to remove life support.
The defendant has been arrested and taken into custody. Minneapolis police report that blood alcohol results will take a few weeks, probably because they are relying on blood or urine testing, which must be processed by the Minnesota Bureau of Criminal Apprehension (BCA). Breath Test results, which are quicker, have been put into legal limbo by Supreme Court rulings.
Early investigation wil be crucial. Police investigation will center around Criminal proof. A civil investigation would also look at the alcohol consumption. If a bar or liquor store illegally served alcohol to the defendant, there may be civil dram shop liability in addition to the fault of the drunk driver. Drunk drivers are often uninsured or underinsured, so an insurance investigation will also be important.
Our thoughts certainly go out to Mr. Iverson and his family.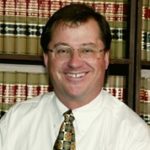 As a partner with Bradshaw & Bryant, Joe Crumley has over 20 years experience with the firm—helping injured people and their families to secure just and fair compensation. Excelling in personal injury litigation, Mr. Crumley has secured numerous record-setting verdicts and settlements and won accolades such as MTLA's "Trial Lawyer of the Year" and "Excellence" Awards.