The peanut recalls are every where. There is absolutely no doubt that this poisoning is the biggest one the country has ever faced. Stories continue to surface that the factories were cesspools just waiting for a disaster. I am constantly reminded that the first stories that came out of the company were that this was a limited problem that only involved commercial vendors.
Seven people are dead and hundreds have been made sick. The country was lied to and has been put in danger for many years to come. There will be civil suits and hopefully each of those injured will be able to get justice. But, what do the leaders of this damage face?
The FDA and the US attorney's office are working together at present and could ask for help from the FBI. Laws governing food adulteration date to the 1938 Federal Food, Drug and Cosmetic Act. The act defines adulterated product as food that was "prepared, packed, or held under unsanitary conditions whereby it may have become contaminated with filth, or whereby it may have been rendered injurious to health."
The provision offers two types of adulteration charges — misdemeanor and felony. Intent defines the difference. A felony charge means the food was knowingly contaminated and put on the market anyway. The maximum fine for felony adulteration is $10,000. The maximum prison sentence is three years. A misdemeanor conviction carries a maximum sentence of a $1,000 fine and one year in prison.
States where people got sick or died can pursue charges such as manslaughter or negligent homicide. The federal government could also look at fraud or RICO charges if they really decided to get serious.
Steve Lombardi has blogged a couple of times about the way China has penalized business leaders after findings far short of what we have seen in this case. Whatever happens, hopefully the people behind this problem will face their own justice.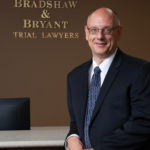 A founding partner with Bradshaw & Bryant, Mike Bryant has always fought to find justice for his clients—knowing that legal troubles, both personal injury and criminal, can be devastating for a family. Voted a Top 40 Personal Injury "Super Lawyer"  multiple years, Mr. Bryant has also been voted one of the Top 100 Minnesota  "Super Lawyers" four times.