Most Americans are active on at least one social media platform, and many have multiple accounts through which they interact with friends, family, and followers. It has become common practice to use social media to reach out to loved ones after a death in the family, but if you intend to bring a wrongful death claim, it's important that you are careful about what you publish online, because the opposing party might use your posts to dispute liability or damages.
If temporarily disabling your accounts is not an option, be sure to avoid these three critical mistakes:
1. Posting About the Accident
Anything you post about the events that led to the accident might be used by the opposing party to dispute liability. For instance, if the deceased somehow contributed to the accident, this could reduce the damages award. Even if you think a post about the accident would only serve to strengthen your case, there's no way to predict how the insurance adjuster might interpret or even misrepresent what you publish.
Don't forget to remind other family members to avoid posting about the accident, as well. The insurance adjuster might review the accounts of close friends and family of the deceased to find photos, text posts, and videos that can be used to challenge the claim.
2. Discussing the Costs You've Incurred Due to the Death
A death in the family can be both emotionally traumatic and financially devastating. As tempting as it may be to vent about your financial concerns online—especially if the death was caused by another person's intentional wrongdoing or negligence—doing so could only harm your case. For example, if your posts imply that certain costs are less expensive than they actually are, the insurance adjuster might use them to dispute the value of your claim.
3. Asking for Legal Advice
It's common to turn to social media connections for advice, but taking legal guidance from anyone other than your attorney could be a costly mistake. If your financial future is on the line, it's important that you make informed and strategic decisions. Anything you say or do while your claim is pending could impact the outcome of your case, so if you ever suspect that a particular decision might influence your case—even indirectly—it's wise to share your concern with your lawyer rather than reaching out to friends and family on social media.
Call 320-259-5414 to Discuss Your Case with a St. Cloud Wrongful Death Attorney
If your family member has died because of someone else's negligence, contact Bradshaw & Bryant to discuss your case. Our attorneys are highly experienced litigators who have a track record of success both in and out of the courtroom.
We combine the attentive, personalized counsel of a small law firm with the resources of a large practice. Call 320-259-5414 or fill out our Contact Form to schedule a free case evaluation with a wrongful death lawyer in St. Cloud.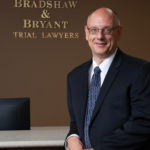 A founding partner with Bradshaw & Bryant, Mike Bryant has always fought to find justice for his clients—knowing that legal troubles, both personal injury and criminal, can be devastating for a family. Voted a Top 40 Personal Injury "Super Lawyer"  multiple years, Mr. Bryant has also been voted one of the Top 100 Minnesota  "Super Lawyers" four times.