When I gave blood last week, I was interested in one of the new fliers contained in the mandatory reading materials. The Red Cross is now not taking donations from people who have been diagnosed with Chronic Fatigue Syndrome. Since I have clients with the diagnosis from time to time, I thought it was important to find out why.
Unfortunately, when I asked there wasn't anyone aroundwho could tell me why. So I did what we do now: I googled it.
Apparently, The Australian Red Cross Blood Service took an official stance this April when they noted recent research, describing a possible link between chronic fatigue, and a retrovirus called Xenotropic Murine leukemia virus-related Virus (XMRV). They noted that there is still a number of questions about the link, but with the plan that they will review the issue in two years, the safety of the overall blood supply required the caution.
There was also a June press release from the AABB :
recommending that, as an interim measure until further definitive data are available, its member blood collectors, through the use of donor information materials available at the donation site, actively discourage potential donors who have been diagnosed by a physician with CFS [also known as chronic fatigue and immune dysfunction syndrome (CFIDS) or myalgic encephalomyelitis (ME)] from donating blood or blood components.
I wasn't able to find anything more specific on the US Red Cross and unfortunately, they wouldn't give me a copy of the flier. Hopefully, more will be done to research this issue.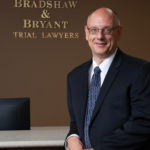 A founding partner with Bradshaw & Bryant, Mike Bryant has always fought to find justice for his clients—knowing that legal troubles, both personal injury and criminal, can be devastating for a family. Voted a Top 40 Personal Injury "Super Lawyer"  multiple years, Mr. Bryant has also been voted one of the Top 100 Minnesota  "Super Lawyers" four times.