If you were seriously hurt because someone failed to act with reasonable care, you deserve justice. While there's no way to go back in time and undo the incident—or erase the trauma you've since experienced—you may be able to hold the negligent or reckless party financially accountable for all associated damages.
Whether you have grounds for a personal injury claim—and whether said claim ends up yielding a satisfactory payout—will depend on a variety of factors. To determine if it's worth proceeding, let's take a look at the four elements that make up most successful cases:
1. A Duty of Care
If you want to bring a negligence claim, it must be shown that the party responsible for your injuries owed you a duty of care. This duty could have been established, as it is between a doctor and a patient, or it could have been implied, as it is between a motorist and those in traffic around them.
2. A Breach of Duty
Unless your personal injury claim is brought on the basis of strict liability or intent, you will have to prove that the opposing party was negligent, or breached the duty of care owed to you. If you were hurt in a car accident, for example, you may have to demonstrate that the other motorist was drunk, drowsy, or distracted at the time of the wreck. If, on the other hand, you were the victim of medical malpractice, you would have to present evidence that your healthcare provider deviated from the most widely accepted standards of care given the circumstances.
3. Causation
The opposing party's actions—or lack thereof—must have been directly responsible for the injuries you sustained. In other words, you wouldn't have gotten hurt but for the defendant's act or omission. While proving causation can be relatively straightforward, it can also pose a challenge, especially in cases where the plaintiff's own negligence contributed to the incident, or the plaintiff had a preexisting condition.
4. Damages
In order to secure a settlement or verdict in your favor, you must have incurred actual damages as a result of the tort. In the state of Minnesota, recoverable damages may include the costs associated with:
• Lost wages;
• Loss of future earnings;
• Property repairs;
• Medical care;
• Replacement services; and
• Home and vehicle modifications needed to accommodate any permanent limitations resulting from the injuries.
Personal injury claimants are also entitled to seek compensation for non-economic damages like mental anguish, loss of enjoyment in life, and pain and suffering. And if the defendant's conduct constituted a deliberate disregard for your rights, you may be entitled to a punitive award, as well.
Speak with a St. Cloud Personal Injury Lawyer Today
To find out if you have grounds for a personal injury claim, turn to Bradshaw & Bryant. Our resourceful team will conduct a thorough investigation into the incident to gather all available evidence to support your case. Call 320-259-5414 or fill out our Contact Form to schedule a free consultation with a personal injury attorney in St. Cloud.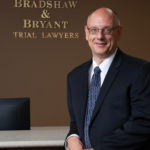 A founding partner with Bradshaw & Bryant, Mike Bryant has always fought to find justice for his clients—knowing that legal troubles, both personal injury and criminal, can be devastating for a family. Voted a Top 40 Personal Injury "Super Lawyer"  multiple years, Mr. Bryant has also been voted one of the Top 100 Minnesota  "Super Lawyers" four times.