Drunk drivers cause more than $44 billion in damages every single year. For victims and their families, such damages typically include the costs associated with medical care, missed work, property repairs, and reasonably necessary replacement services.
If you were struck by a drunk driver, you may pursue compensation for these and other losses; however, you'll have to prove that the motorist who struck you was, in fact, responsible for the accident. While the most valuable pieces of evidence will depend on the circumstances surrounding the wreck, they will likely include the following:
1. The Official Police Report
The officers who responded to the scene should have drafted an official report in which they recorded their initial impressions of all parties involved. If they witnessed any signs of impairment or conducted field sobriety tests at the scene, they should have noted as much in this document. As such, it could prove integral when building your case against the other motorist.
2. Toxicology Results
If police conducted any chemical tests on those who were involved in the wreck, their results could essentially serve as the foundation of your claim. As long as they indicate some degree of impairment, you'll inevitably use these results to assign blame.
3. Photographs of the Scene
Accident reconstruction experts can determine what happened in the moments leading up to the collision by evaluating images of the wreckage. If it's clear that the other motorist didn't try to make any evasive maneuvers to avoid the crash, it will be easier to argue that impairment played a role.
4. Video Footage of the Accident
Unless the collision occurred in a relatively remote area, there's a good chance it was captured by surveillance cameras. It may have also been recorded by one or more dash cameras that were on vehicles in the vicinity.
If the motorist who struck you was exhibiting signs of drunk driving prior to the accident, they will likely be apparent in any such footage. Since the recordings may be overwritten in a matter of weeks, though, you'll want to obtain copies as soon as possible.
5. Eyewitness Deposition
Statements from those who witnessed the crash can bolster your claim. Perhaps they noticed the drunk driver swerving, ignoring signals, or failing to stay in his or her lane prior to the accident, for example.
Your legal team may also be able to obtain statements from those who witnessed the motorist drinking prior to getting behind the wheel. Examples include waitresses, bartenders, and social acquaintances.
Call 320-259-5414 to Discuss Your Case with a St. Cloud Car Accident Attorney
At Bradshaw & Bryant, we understand the utter devastation that drunk drivers can leave in their wake. If you were struck by an impaired motorist, we'll help you gather the evidence needed to pursue the maximum payout possible from his or her auto insurer. To schedule a free initial consultation with a car accident lawyer in St. Cloud, call 320-259-5414 or complete the Contact Form on our website.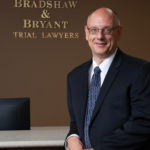 A founding partner with Bradshaw & Bryant, Mike Bryant has always fought to find justice for his clients—knowing that legal troubles, both personal injury and criminal, can be devastating for a family. Voted a Top 40 Personal Injury "Super Lawyer"  multiple years, Mr. Bryant has also been voted one of the Top 100 Minnesota  "Super Lawyers" four times.