From spinal cord damage to head trauma, catastrophic injuries leave immense devastation their wake. This is because they typically cause permanent harm, which can include scarring, disfigurement, paralysis, amputation, and/or dramatic changes in the victim's mood, behavior, or demeanor.
In other words, it's natural to feel helpless when a loved one sustains a catastrophic injury. Just because much of the situation is out of your hands, though, doesn't mean there's nothing you can do.
In fact, there are dozens of ways to support your relative, facilitate their recovery, and ultimately help them thrive. While the most effective strategies will depend on the specifics, there are some general tactics you can apply from day one. Read on to learn what they are:
1. Include Them in Everything You Normally Would
It's not uncommon for people who are recovering from serious injuries to isolate themselves. Even seemingly simple outings, like going to a friend's house for dinner, can be fraught with hurdles. As such, it's often easier to stay home. Unfortunately, isolation leads to loneliness, and loneliness typically leads to depression, which can essentially halt their progress.
To keep your loved one's spirits up, continue inviting them to all the social functions you normally would. Let them know it will be easy to accommodate them, and do whatever you can to ensure they attend. You can offer transportation, for example, and you can promise to take them home as soon as they start to get tired.
2. Encourage Their Independence
It may be tempting to handle virtually everything for your loved one, from running errands to doing housework. While they may need help with some tasks, however, you shouldn't do everything for them.
After confirming any limitations with their medical team, put systems in place that encourage their independence. If they're struggling with memory loss, for example, print out step-by-step lists for tasks like grooming, cooking, and cleaning, and post them around the house.
In most cases, when it comes to catastrophic injuries, the more the victim does for themselves, the faster they'll reach maximum medical improvement.
3. Stay on Top of Their Doctor Appointments
The specifics of your loved one's treatments will depend on the type and severity of their injuries. In most cases, though, people with catastrophic injuries must see multiple providers at different stages of their recovery.
Since it can be hard to stay on top of all these appointments, it's advisable for family members to step in and help. Set up reminders in your relative's phone, make sure they have a ride to and from each doctor's visit, and schedule follow-up appointments as needed.
Call 320-259-5414 to Discuss Your Case with a St. Cloud Personal Injury Attorney
At Bradshaw & Bryant, we know how devastating catastrophic injuries can be physically, emotionally, and financially. If someone in your family suffered permanent harm because another party was being negligent, we'll help you gather the evidence needed to take action. Call 320-259-5414 or fill out our Online Contact Form to set up a free initial consultation with a personal injury lawyer in St. Cloud.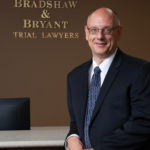 A founding partner with Bradshaw & Bryant, Mike Bryant has always fought to find justice for his clients—knowing that legal troubles, both personal injury and criminal, can be devastating for a family. Voted a Top 40 Personal Injury "Super Lawyer"  multiple years, Mr. Bryant has also been voted one of the Top 100 Minnesota  "Super Lawyers" four times.