This past week, retired St. John's priest Richard Eckroth died. He had been living at St. John's Abbey  for years. He was the subject of a lawsuit that we started last year and has  a long history of predatory conduct. The number of kids Eckroth abused continue to be unknown,  but initial lists indicate there may be into the hundreds.
From a press release from Anderson and Associates concerning the claims they have made:
What we have learned about this predator is that as a priest, monk, professor and pastor of St. John's, he easily built the trust of parents who readily gave him permission to bring their children to a remote cabin owned and maintained by St. John's Abbey where he then abused many of them. Eckroth plied children, some as young as eight years old, with alcohol and often employed means of coercion and threats of violence to accomplish his abuse. Over the years we have worked with several of those kids, now adults, who struggle with an aftermath of depression, anxiety, shame and guilt as a result of what Eckroth did to them.
The Child Victims Act continues to permit survivors of abuse by Eckroth and others to bring civil actions until May 25, 2016. The lawsuite against Eckroth arise from his  sexually abusing kids a cabin in Northern Minnesota in the early 1970s. There are many kids believed to be raped and abused by Eckroth while a monk.  The death of Eckroth or any offender does not prevent survivors from asserting claims against those who made the conscious choices to protect the Eckroths and other abusers like him in the past. Every time one of Eckroth's survivors and the survivors of others like him, comes forward and shares the secret, they can begin the process of recovery. And survivors can come forward confidentially.
The lawsuits that have been started  have contributed to the release of files that are vital to understanding what has been hidden until now.   These documents include a 1993 report from St. Luke's Institute where Eckroth was sent for sexual deviancy and abuse . Other records reflect the knowledge of top officials at St. John's that regarded Eckroth as a "danger" for years.
Abuse of children and the continued silence by the offenders needs to be prevented. If you suffered, saw, or suspected such events, it is important to know that there is help out there.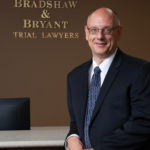 A founding partner with Bradshaw & Bryant, Mike Bryant has always fought to find justice for his clients—knowing that legal troubles, both personal injury and criminal, can be devastating for a family. Voted a Top 40 Personal Injury "Super Lawyer"  multiple years, Mr. Bryant has also been voted one of the Top 100 Minnesota  "Super Lawyers" four times.