Media Advisory
October 12, 2015
St. Paul News Conference Tuesday
Father Antonio "Tony" Marfori, St. Cloud Priest Accused of Sexual Abuse, Currently Working in Elk River Parish and School
Fr. Marfori presently works as a "sacramental minister" at St. Andrew's Parish in Elk River
Recent reports allege Fr. Marfori sexually abused two children in the late 1970s
What: At a news conference on Tuesday in St. Paul attorneys Jeff Anderson and Mike Bryant will:
* Announce the filing of a civil lawsuit naming the Diocese of St. Cloud,Father Antonio "Tony" Marfori and Cathedral High School as defendants. The lawsuit was filed on behalf of Doe 75, who was sexually abused by Fr. Marfori when he was approximately 15 years old. Fr. Marfori was Doe 75's religion teacher at Cathedral High School in St. Cloud.
* Request the Diocese of St. Cloud release all the files of clerics credibly accused of sexual abuse. To-date, the Diocese of St. Cloud has publicly named 33 clerics with credible allegations of child sexual abuse.
* Encourage other survivors of sexual abuse by Fr. Marfori, and others, to come forward safely and confidentially before the Child Victims Act window legislation expires on May 25, 2016.
WHEN: Tuesday October 13, 2015, at 11:00AM CT
WHERE: Jeff Anderson & Associates
366 Jackson Street, Suite 100
St. Paul, MN 55101
Notes:
* A copy of the complaint will be available at the press conference and on our website tomorrow and the event will be live-streamed online with links available on our homepage at  www.andersonadvocates.com
Contact Jeff Anderson: Office: 651.227.9990 Cell: 612.817.8665
Contact Mike Bryant: Office: 320.259.5414 Cell: 800.359.0061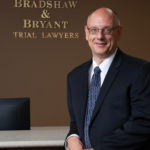 A founding partner with Bradshaw & Bryant, Mike Bryant has always fought to find justice for his clients—knowing that legal troubles, both personal injury and criminal, can be devastating for a family. Voted a Top 40 Personal Injury "Super Lawyer"  multiple years, Mr. Bryant has also been voted one of the Top 100 Minnesota  "Super Lawyers" four times.