ESPN reported this week that there are allegations that Syracuse University assistant basketball coach Bernie Fine molested a team ball boy for more than a dozen years. Following the victims of the Penn State scandal finally coming forward, it's not unusual for others to finally feel empowered and be able to come forward and tell their life story.
The ESPN video report is worth watching especially for what they report head coach Jim Boeheim had to say. That he would go into Fine's room and the young boy would be lying on the bed, BUT ASKED NO QUESTIONS. He scowled.
Is that possible? Could you have a child abused for over a dozen years near you and not have some questions or doubts? There are further reports that an initial investigation was done in 2003. But, no one would believe him and he was told "it's too late to do anything".
Isn't it time that there be more done to make sure that all questions are being asked? That victims be told that they should come forward and they will be listened to? That Zero Tolerance become the only accepted response?
It will be awhile as more comes out about what is being reported. But, it is important that people educate themselves on what to look for and to make sure that we do everything possible to protect the young.
Abuse of children and the continued silence by the offenders needs to be prevented. If you suffered, saw, or suspected such events, it is important to know that there is help out there.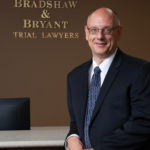 A founding partner with Bradshaw & Bryant, Mike Bryant has always fought to find justice for his clients—knowing that legal troubles, both personal injury and criminal, can be devastating for a family. Voted a Top 40 Personal Injury "Super Lawyer"  multiple years, Mr. Bryant has also been voted one of the Top 100 Minnesota  "Super Lawyers" four times.