News Release
June 5, 2013
http://www.youtube.com/watch?v=cjVeF6ufKCk
Former student recounts sexual abuse at St. Johns Prep Minnesota Child Victims Act allows Sauk Rapids man to file Lawsuit (St. Cloud, MN) – Thirty-six years later, 50 year-old Ed "Troy" Bramlage of Sauk Rapids, Minnesota, finally has a chance at justice. It took an act of the Minnesota Legislature and a lot of courage, but on Wednesday Bramlage stood in the office of his attorneys, and in front of reporters, told a secret he has harbored since he was 14 years old: "When I was a freshman at St. John's Prep I was sexually molested by a priest."
The occasion for recounting was a press conference announcing a civil lawsuit for the abuse, filed by Bramlage, against the priest, Father Gilbert "Allen" Tarlton, and the Order of St. Benedict, which includes St. John's Abbey and St. John's Preparatory School. The Lawsuit, filed today in Stearns County District Court, was made possible when in May the Minnesota Legislature passed the Child Victims Act, allowing adults who were sexually abused as children a three year window to bring civil actions against their offenders and any institution that may have allowed the abuse. In addition, the act eliminated the statute of limitations for any child sex abuse commitment in the future.
"In 1977, at the age of 14, I was not strong enough to tell anyone I was being molested by a Catholic priest" said Bramlage. "Indeed, no one in my family had ever heard of priests having sexual contact with boys. I thought no one would have believed me. Now at the age of 50, I can finally stand up for myself and talk about what happened to me. By doing this, I hope others who have been abused as children will find the courage to talk about what happened to them."
Tarlton, who has been accused of sexual abuse by at least seven other survivors, was sent for "treatment" on at least six different occasions during his tenure with the Order. After joining St. John's Abbey in 1947, he served in numerous locations including St. John's Preparatory School; St. Joseph's in Minneapolis; St. Augustine's in Nassau, Bahamas; Cincinnati, OH and Lexington, KY.
Jeff Anderson, one of Bramlage's attorneys and widely recognized as a pioneer in clergy sexual abuse litigation said, "the doors have been shut for so long to sexual abuse survivors in Minnesota, but the time is now for this survivor, and others, to speak their truth, and under the Child Victims Act, they can."
Joining Anderson was St. Cloud attorney Michael Bryant of Bradshaw & Bryant, PLLC. Bryant, who is no stranger to sexual abuse cases having worked with clients for over twenty years in the personal injury field added, "For far too long, those that have tragically harmed children have used the law to hide, while at the same time preaching zero tolerance. It's finally time for light to be shown on those that abused, hid the abusers, and protected the abusers. Courageous survivors will get the justice that has been for so long denied."
Contact Jeff Anderson: Office/651.227.9990 Cell/612.817.8665
Contact Mike Bryant: Office/320.259.5414 Cell/800.359.0061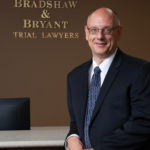 A founding partner with Bradshaw & Bryant, Mike Bryant has always fought to find justice for his clients—knowing that legal troubles, both personal injury and criminal, can be devastating for a family. Voted a Top 40 Personal Injury "Super Lawyer"  multiple years, Mr. Bryant has also been voted one of the Top 100 Minnesota  "Super Lawyers" four times.