There was a interesting story in Minnesota Tribune  this week about an increase in slip and fall  visits to the ER.  These are always tough cases to deal with:
– The Minnesota courts have been hostile to these claims. Thiese past couple of years have given us some of the harshest rulings on falls that have been seen for a long time.
– You don't just recover because it happened on someone else's land. There are policies that have some amounts that pay for a limited amount of medical costs, but those don't involve any payments for liability without proof of negligence.
– Without a fracture or a surgery, the cost that goes into the cases, which include experts from the medical field, but also from engineers or architects, make these cases very costly. When you factor in the risks, a soft tissue injury is not going to justify the expense to pursue the case in most circumstances.
Slip and fall cases probably bother me the most because jurors are harsh, the judges seem not to care, and often they involve businesses that make the customer the scape goat. They invite people on the property and don't make sure they are safe. It's really a case that shouldn't be as hard and as unjust as they really are.
See also:
Answering Questions in Slip and Fall Cases,  Mike Bryant | Jul 30, 2012
Is It Really That Funny When Someone Falls Down?,  Mike Bryant | Aug 24, 2012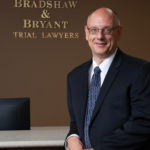 A founding partner with Bradshaw & Bryant, Mike Bryant has always fought to find justice for his clients—knowing that legal troubles, both personal injury and criminal, can be devastating for a family. Voted a Top 40 Personal Injury "Super Lawyer"  multiple years, Mr. Bryant has also been voted one of the Top 100 Minnesota  "Super Lawyers" four times.