That statement was found in the disclosure of files done by the Archdioceses of Minneapolis and St Paul.  As reported by the Minnespolis Tribune the context and rest of the quote was:
The archdiocese files show how abuse complaints were addressed at the chancery, at least 15 years ago. In a 1997 memo, then-Archbishop Harry Flynn writes about a lawsuit filed against Cosmas Dahlheimer and Thomas Gillespie, which "has reached a key juncture at which we as an Archdiocese must consider whether it is our best interest to notify members" of the Church of St. Bernard in St. Paul and St. Mary's Catholic Church in Stillwater — where the priests served.

"Normally, common sense would dictate that we withhold information from the public for at least two good reasons," Flynn wrote. "First, the lawsuits may be settled outside of court and not become a matter of public record. And second, an early release of information gives the media a longer period of time to sensationalize the story."

Flynn goes on to recommend, however, that he and the Rev. Kevin McDonough, then the chancery's point person on abuse, prepare a memo that would be read at masses at the churches.
This is the attitude that is being dealt with in these cases.    Think about this quote every time they fight a motion for disclosure.  Think about this quote every time they say that they should police the files and decide what needs to be disclosed.  Ask the question:  What more is out there?
Read that statement and find for me any suggestion that we can expect any sense of cooperation and disclosure,  to say nothing of zero tolerance.
With every name on their lists  there is a file.    Each file has year of letters,  memos,  and notes of past abuses that were reported,  not disclosed to authorities,  and covered up.
A lawsuit was filed yesterday for two of the "Cabin boys"  against  Rev. Richard Eckroth  and   St. John's Abbey.   The Abby responded that it would:
 …cooperate to seek the truth as we have in the past. 
This new statement will be tested and maybe it will be proven true.   But the past suggests a different "normal, common sense" for them which has always been to "withhold information from the public.".   The files need to be disclosed by the Abbey.
Abuse of children and the continued silence by the offenders needs to be prevented. If you suffered, saw, or suspected such events, it is important to know that there is help out there.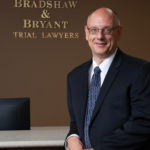 A founding partner with Bradshaw & Bryant, Mike Bryant has always fought to find justice for his clients—knowing that legal troubles, both personal injury and criminal, can be devastating for a family. Voted a Top 40 Personal Injury "Super Lawyer"  multiple years, Mr. Bryant has also been voted one of the Top 100 Minnesota  "Super Lawyers" four times.