House fires accounted for 87 percent of all fire deaths in 2001. The most dangerous place to be, in regards to fire, is in your own residence. In 2001, careless smoking was the leading cause of fire fatalities in Minnesota, with 10 civilian deaths (21 percent). As of August 1, 1993, smoke detectors are required in every Minnesota dwelling that has a sleeping area.
During the home heating season, your home can be a cozy, warm place to spend the winter, but it can become a nightmare if you don't "Watch What You Heat!"
Safety around heating equipment and appliances is an important first step in reducing the number of fires that occur annually. Keep children and loose clothing at a safe distance.
Use a yard stick to measure the distance between anything that can burn and your home heating equipment. If you don't have at least three feet of clearance, you are at risk.
Always turn off portable heating appliances when leaving home or retiring for the evening. Be sure the fire in the fireplace is out before going to bed.
Have chimneys, fireplaces and other heating devices inspected by a qualified professional at the start of every heating season.
Use a sturdy screen or glass closure in front of your fireplace, and burn only clean fireplace wood. Never burn treated lumber.
Install smoke detectors on every level of your home, including the basement, and test them monthly.
If you smell gas in your home, contact your local utility company or qualified professional heating contractor immediately, and follow their advice.
Install a residential fire sprinkler system in your home.
Inspect heat tape before using. Never thaw frozen pipes with an open flame.
In past years Minnesota as seen 52 people loss their lives in fires. Another 144 injured seriously enough to require transport or treatment by fire department responders. If you do a little bit of preventive work and thinking this can be prevented.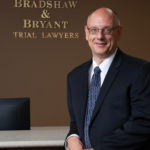 A founding partner with Bradshaw & Bryant, Mike Bryant has always fought to find justice for his clients—knowing that legal troubles, both personal injury and criminal, can be devastating for a family. Voted a Top 40 Personal Injury "Super Lawyer"  multiple years, Mr. Bryant has also been voted one of the Top 100 Minnesota  "Super Lawyers" four times.