Conrad Zwirtz is lucky to be alive and slowly healing after the last rung of the portable steps to his deer stand gave way causing him to fall 15 feet. He suffered serious injuries, but thankfully was able to call out to a friend some yards away for help.
Conrad's accident is a reminder that hunting accidents can be serious and not all injuries are the result of a firearm mishap. As such, it's important to know the potential dangers of hunting not only for yourself but others as well.
Hunting Safety Tips
Hunting is a popular outdoor activity that requires focus, skill and patience. In the U.S. some states require hunters to take a safety course before they can apply for a hunting license. In fact, many states offer hunter safety courses, most of which can be taken online.
First and foremost is planning your trip. Next is ensuring your gear is working properly. Firearms should be cleaned and inspected prior to hunting. Clothing and other equipment also needs to be checked. Anything that is questionable should be discarded, repaired or replaced.
Assume every firearm is loaded and treat it as such.
An estimated one third of all hunting accidents are self-inflicted injuries. The muzzle should be pointed in a safe direction at all times.
Be certain of your target but also what's around and behind it. You must be positively sure that you have a clear shot before shooting. Along with identifying a target, a hunter should know a safe backstop for their bullet is present.
Keep fingers outside the trigger guard until ready to shoot to avoid an unwanted discharge.
All firearm hunters must dress properly and wear a cap, hat, jacket, vest or other outer garment of Hunter Orange – during daylight hours to ensure visibility.
Before going to the woods, check the weather forecast.
Always tell someone where you are going hunting and when you expect to return.
Whenever possible, avoid hunting alone. But if you do go alone, be careful and hunt in familiar areas. If hunting on private land, be sure to obtain permission from the landowner and respect his/her property. Also carry a compass so you always know your direction.
Hunters should carry a survival kit that contains the following – a rope, a knife, water, waterproof matches, an emergency shelter, and first aid supplies.
Conrad's accident should serve as a reminder for hunters to inspect their portable and permanent deer stands annually. Bolts, cables and chains should be checked to ensure they are in good condition. Permanent deer stands should be checked for wood deterioration and if the ladder rungs are stable.
For all hunters, the Injuryboard members have provided gun safety and hunting tips in the past. For each hunt, it's important that the supervising adult be vigilant concerning each young hunter, that every hunter be watch out for them self, for everyone to use their gun properly, and be safe.
For more information on hunting in Minnesota, visit the Minnesota Department of Natural Resources.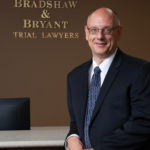 A founding partner with Bradshaw & Bryant, Mike Bryant has always fought to find justice for his clients—knowing that legal troubles, both personal injury and criminal, can be devastating for a family. Voted a Top 40 Personal Injury "Super Lawyer"  multiple years, Mr. Bryant has also been voted one of the Top 100 Minnesota  "Super Lawyers" four times.