This year has been a good one.  I did take a couple of months off from writing,  but am back.  There were a couple of trials that were taking up a lot of my time. We thank everyone, who took the time to read any of our posts. It was especially gratifying to have so many people weight in with comments. Here s a list of our most viewed posts in 2017.
Can you get a ticket for exceeding the speed limit when passing a vehicle on a two lane road?, Nicole Bettendorf | July 27, 200
Real Life Example of Justice,  Mike Bryant October 20, 2011 9:25 AM
Update on a Past Post About a Teen's Death in Buffalo, Mike Bryant February 7, 2011 11:11 PM
Minnesota Deptartment of Revenue Issues Check Fraud Alert, Mike Bryant March 3, 2014 9:17 PM
Constitution? States Rights? Right to Contract? Crazy Ideas H.R. 1215, Mike Bryant June 22, 2017 1:00 PM
Does my Teenager Need a Booster Seat??, Joe Crumley | Jul 28, 2009
Crosier Order Files for Chapter 11 Bankruptcy, Framework Established for $25.5m Agreement with Abuse Survivors, Mike Bryant  June 5, 2017 6:51 AM
Startling Look at Cost of Child Abuse,  Mike Bryant June 19, 2017 9:54 AM
Diocese of St Cloud Releases a List of Sex Offenders. (Update), Mike Bryant | Jan 4, 2014
Big Trucks Kill! – The Dangers of 18-Wheelers, Joe Crumley | Oct 13, 2009
Here is the top ten from our Minneapolis blog.
Here is the top ten for the Legal Examiner.
Worth reading also :
Top 10 Civil Justice Stories for the Year 2017: Part One,  Rick Shapiro December 27, 2017 12:32 PM
Top 10 Civil Justice Stories for the Year 2017: Part Two, Rick Shapiro December 29, 2017 12:42 PM
We hope to build off this year and post even better in 2018.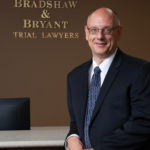 A founding partner with Bradshaw & Bryant, Mike Bryant has always fought to find justice for his clients—knowing that legal troubles, both personal injury and criminal, can be devastating for a family. Voted a Top 40 Personal Injury "Super Lawyer"  multiple years, Mr. Bryant has also been voted one of the Top 100 Minnesota  "Super Lawyers" four times.