Drivers in Minnesota will soon be prohibited from using handheld cellphones while operating a motor vehicle. Governor Tim Walz signed the bill, known as the "hands-free cellphone law," in early April, and it will go into effect on August 1, 2019.
Here's what all motorists in Minnesota should know about this statute and similar laws banning distracted driving:
It's Hands-Free or Hands Off 
The new law essentially makes it illegal to hold your cellphone while behind the wheel. Although motorists will still be allowed to interact with hands-free, voice-activated devices, they will not be able to input anything manually, with a few exceptions. For example, the law does not prohibit drivers from performing "one-touch" functions such as accepting a navigation prompt, as long as they don't have to hold the device or scroll. And if you're in a stationary vehicle that's legally parked, you can use your cellphone without worrying about being ticketed. 
The Penalties for Texting and Driving Remain Unchanged 
It's already illegal to text, email, or browse the web while driving in the state of Minnesota, and in 2018, police were vigilant about catching offenders as they wrote nearly 10,000 tickets for texting and driving. This figure represents a mere fraction of the motorists who read or type messages behind the wheel, but it illustrates just how widespread the problem is. The new bill, however, does not impose harsher penalties for texting and driving.
A first violation for texting and driving is a petty misdemeanor and will result in a $50 fine. All subsequent violations come with a $275 fine, which is expected to remain the same even after the new law goes into effect. It's important to note that with added surcharges, the penalties are closer to $135 and $360, respectively. 
The Penalties for Violating the Hands-Free Cellphone Law Are Similar to Those for Texting and Driving 
Some senators wanted the consequences of using a phone while behind the wheel to be fairly severe. For example, Republican David Osmek proposed that distracted motorists who caused bodily injury or death should face a fine of up to $20,000 and a prison sentence of up to 10 years. Such penalties are actually more severe than those for drunk drivers who cause bodily injury or death.
The penalty for violating the hands-free cellphone law will be the same as the penalty for texting while driving: a $50 fine for a first offense, and a $275 fine for all subsequent offenses. 
Call 320-259-5414 for a Free Consultation with a St. Cloud Car Accident Attorney
If you were hurt in a collision with a distracted driver, contact Bradshaw & Bryant. Our attorneys understand what you're going through, and we will do everything in our power to help you pursue the full compensation you deserve.
We have extensive experience representing distracted driving accident victims, and we know what it takes to achieve successful outcomes in these cases. Call 320-259-5414 or fill out our Contact Form to schedule a free consultation with a car accident lawyer in St. Cloud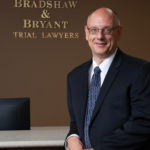 A founding partner with Bradshaw & Bryant, Mike Bryant has always fought to find justice for his clients—knowing that legal troubles, both personal injury and criminal, can be devastating for a family. Voted a Top 40 Personal Injury "Super Lawyer"  multiple years, Mr. Bryant has also been voted one of the Top 100 Minnesota  "Super Lawyers" four times.