After nearly 20 years, Congress has finally voted to increase the railroad liability cap. The previous cap, unchanged since 1997, was increased from $200 million to $295 million. More importantly, the law provides the cap will be adjusted every five years.
Current victims can be reassured that through the efforts of lawyers and their advocates, the law is retroactive, meaning it applies to current claims.
This change is important for all victims of rail disasters. A single death or serious injury case could result in a $5-10 million dollar award. But trains can cause huge disasters, with many deaths and injuries. In our experience litigating train cases, a derailment or spill causing just 30 deaths or injuries could easily result in damages far exceeding the cap. That leaves people undercompensated.
If you or someone you know has been injured by a train or railroad negligence, you should call a lawyer for a free consultation.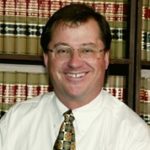 As a partner with Bradshaw & Bryant, Joe Crumley has over 30 years experience helping injured people and their families to secure just and fair compensation. Excelling in personal injury litigation, Mr. Crumley has secured numerous record-setting verdicts and settlements and won accolades such as MTLA's "Trial Lawyer of the Year" and "Excellence" Awards.