My June 6 post is a little late.
With a father that served in the Army before, during and after WWII, and a brother currently serving, I often think of the sacrifices of those in uniform. For years, near D-Day, June 6, I would dig out my tape of "The Longest Day," the star-studded black and white classic detailing the first day the invasion of Normandy, and shed a few tears. The film "Saving Private Ryan" came out a few years ago; a more realistic chronicle of Omaha Beach, and the reaction was intensified. Many old men shed tears watching that film, and thanked Speilberg for his work.
After watching both these films, I was inspired to write a few words, and a few years later, we posted the article on our website, and I think it's worth the time to think of all we have to be thankful for:
As my father's generation ages, we must remember the heroic sacrifice these soldiers made. Tom Brokaw wrote in his book that the "Greatest Generation" simply saved the world. It started long before D-day, and it continued long after. But today it is appropriate to honor their sacrifice, and the sacrifice made by all who wear the uniform of free nations.

I won't ruin "Private Ryan" by telling you the ending. But the penultimate two words spoken to Private Ryan are a message to us in modern society that enjoy the fruits of their sacrifice. Tom Brokaw told us that this "Greatest Generation" saved the world. "Saving Private Ryan" tells all of us, in no uncertain terms, to "Earn this."
This post has got nothing to do with safety, lawyers or injury. It's about respect, and remembering the horrors of war and the sacrifices of those who preceded us.
If you see a veteran, thank them for their service. And try to earn all they gave for us.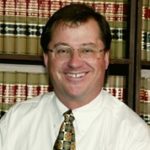 As a partner with Bradshaw & Bryant, Joe Crumley has over 20 years experience with the firm—helping injured people and their families to secure just and fair compensation. Excelling in personal injury litigation, Mr. Crumley has secured numerous record-setting verdicts and settlements and won accolades such as MTLA's "Trial Lawyer of the Year" and "Excellence" Awards.