Doing as many wrongful cases as we have we deal with all types of families who have lost loved ones. There are many ways that people react. Usually it starts with shock and then moves into anger and sorrow. Each person deals with the loss in different ways.
It is nice to see when people learn from these deaths. That people think about the ramifications of speeding, drunk driving or texting while driving. It's a hard lesson, but it's important that we continue to drive the road deaths down.
I ran across two examples of people that have taken their griefs and worked to ensure that others benefit from their loss:
In Delaware, a dangerous intersection was improved with signs after family members of a decedent testified about the area. Local residents could cite problems going back 7 years. An accident reconstructionist, who our office has used a number of times, testified that the intersection was a "death trap". But, it was people who had suffered who could bring the message home. It is unimaginable to go through this, but thankfully for others , they used the event to help others.
In another example , the father after the death of his daughter, went to work on an invention to not let it happen again. She died when, due to the glare of the sun, the car she was in rear ended a semi truck. He went to work on inventing a windshield that automatically adjusts based on changing light conditions. A couple of major car manufactures are looking at his patent.
There are many examples of those who testify at the legislature, speak at schools, and look for ways to prevent future deaths. Sympathy goes out for their losses and thanks for their positive impact on society.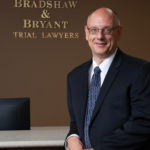 A founding partner with Bradshaw & Bryant, Mike Bryant has always fought to find justice for his clients—knowing that legal troubles, both personal injury and criminal, can be devastating for a family. Voted a Top 40 Personal Injury "Super Lawyer"  multiple years, Mr. Bryant has also been voted one of the Top 100 Minnesota  "Super Lawyers" four times.