The state of Minnesota defines wrongful death as a fatality that occurs as the direct result of the "wrongful act or omission" of another party. Successful wrongful death claims have many of the same elements as personal injury claims, with one notable difference: Instead of the accident victim bringing the claim, the deceased's surviving family members do.
Although the deceased may have dozens of loved ones who will grieve his or her death, only certain family members have the right to pursue damages. Eligible parties include the deceased's:
Spouse;
Children;
Parents;
Grandparents; and
Siblings.
In most cases, eligibility is hierarchical. That means siblings cannot file a wrongful death lawsuit following the loss of their brother or sister unless he or she has no surviving spouse, children, parents, or grandparents.
If eligible family members do not want to navigate the tort proceedings on their own, they may appoint a trustee. The trustee will file the claim on their behalf, and any recovered compensation will be distributed according to state law.
Deadlines for Filing Wrongful Death Lawsuits in Minnesota 
Every state has deadlines for filing wrongful death lawsuits. The timeframe within which you must file the lawsuit is called the "statute of limitations."
In Minnesota, the statute of limitations for wrongful death claims is usually three years. That means you have three years from the date of death to file a claim against the liable party or parties.
Although this deadline applies to most cases, there are a few exceptions that can either extend or shorten it. For this reason, it is essential that you speak to a wrongful death attorney as soon as possible following the unanticipated loss of a loved one. Even if you are not ready to file a formal lawsuit, it will be advantageous to know precisely how long you have to do so.
If you want to bring a claim against a municipal, local, or state government, for example, you must notify the entity within 180 days of the date of death. You should do so in writing, and your notice should contain details regarding the date, time, and location of the fatal incident, as well as the names of any state employees who may have been involved and the total amount of compensation you are seeking.
The governing body will review this notice and decide whether to honor the request. If they refuse, you will then have three years to file a formal wrongful death lawsuit.
There is no filing deadline for families who have lost a loved one due to an intentional act that constitutes murder.
Speak with a Minneapolis Wrongful Death Lawyer About Your Case Today! 
If you lost a family member because of someone else's reckless or negligent behavior, turn to the accident attorneys at Bradshaw & Bryant. We are dedicated to providing compassionate and tenacious legal representation to clients throughout Golden Valley, Waite Park, and all of Minnesota. Call 320-259-5414 or fill out our Contact Form to schedule a free case evaluation with a Minneapolis injury lawyer on our team.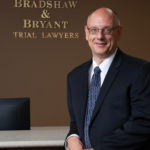 A founding partner with Bradshaw & Bryant, Mike Bryant has always fought to find justice for his clients—knowing that legal troubles, both personal injury and criminal, can be devastating for a family. Voted a Top 40 Personal Injury "Super Lawyer"  multiple years, Mr. Bryant has also been voted one of the Top 100 Minnesota  "Super Lawyers" four times.