A couple of times a month we will get a new client in that will have had an offer already. Occasionally, the offers make sense and all we do is review it and advise the client that it's about what they would get if they were represented. We'll advise them that there are other issues or coverages that have to be dealt with, but overall it's fair. But, many times we see insurance company offers that are tantamount to fraud.
A number of times , my partner has met with people who didn't speak English. Just weeks away from accidents and still in obvious pain. The company for the at-fault party was offering a few hundred dollars; basically pennies for their case. But, they were telling them that the paper they were to sign were nothing important. In reality, it was a TOTAL release of all of claims.
Now, since they were so close to the accidents, that they may not have met a threshold. Many people get better, but that would only mean they were one of the very fortunate people who don't receive anything for their case, but are all better. Alternatively, if they do have a permanent injury and a serious loss, this grab by the company to swindle them is out and out criminal.
If you are in an accident it's free to sit down with an experienced personal injury attorney who can advise you as to what rights you have. If you have a friend in this situation it's better to tell them to see someone that understands the complexity's of personal injury.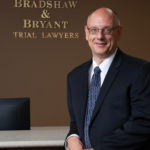 A founding partner with Bradshaw & Bryant, Mike Bryant has always fought to find justice for his clients—knowing that legal troubles, both personal injury and criminal, can be devastating for a family. Voted a Top 40 Personal Injury "Super Lawyer"  multiple years, Mr. Bryant has also been voted one of the Top 100 Minnesota  "Super Lawyers" four times.