It looks like the bar association is taking a look at the accident hotlines that are all over the place. It will be interesting to see what they do. The claim seems to be that they hold themselves out as referral sources, but they are actually under the control of just one clinic. It looks like it's a deceptive advertising argument.
Personally, I wonder why a person would call one of these hotlines to hire their lawyer:
– I guess they are catchy and easy to remember.
– Maybe they think that it really doesn't matter who you hire and all of us know the same thing.
– Or maybe it's just laziness at spending the time and it's easy to dial numbers you already know.
But, if you have a claim where you really want to protect yourself and your family, I would think that a little more thought should go into it.
It also depends on how you look at a claim. If you are partially making it up, aren't hurt as bad as you are saying, or expect that it's going to just be a quick buck scam, most lawyers aren't going to want your case any way. Probably, the best bet for the people in this category is to make sure that they find a mill law firm that works to just churn them out as plaintiff claim adjusters.
Not anything I want to waste my efforts on. You see, we do absolutely believe that the people we represent have real claims and are worth the time and money that we put into their cases.
So let's see what Florida does and maybe it will be good for everyone involved.
(Update: The CFO for Florida, who oversees insurance investigations, has written to the Florida State Bar with a request to "expeditiously institute a permanent ban against" these referral services).
(Update 2: Both the Bar Association and the Florida State Legislature is looking at potential changes that will affect 1-800-Ask- Gary.)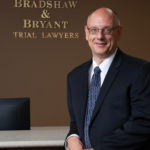 A founding partner with Bradshaw & Bryant, Mike Bryant has always fought to find justice for his clients—knowing that legal troubles, both personal injury and criminal, can be devastating for a family. Voted a Top 40 Personal Injury "Super Lawyer"  multiple years, Mr. Bryant has also been voted one of the Top 100 Minnesota  "Super Lawyers" four times.