Like other states, Minnesota continues to look at ways to prevent and deal with people who drive under the influence of Drugs and Alcohol. One idea was to create DUI courts that were designated for DUI offenders only. As time has past, the initial numbers have suggested that these courts are a great success.
In Hennepin County, only one in 110 persons has re-offended. In Ramsey county, they have only seen 3 re-offenders since 2005. The historical numbers have suggested the return of offenders handled in the general system being as high as 60 to 80 %.
If these changes continue the saving the lives of the offenders, the lives of others that are on the road, and both future time and money for the court system are clear. These are savings that have been seen in other states with designated courts as well.
As always these numbers remind us:
– don't drink and drive
– keep in mind that poor choices are made when people drink to much
– The court system works best when all parties work together to come up with long term solutions.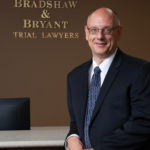 A founding partner with Bradshaw & Bryant, Mike Bryant has always fought to find justice for his clients—knowing that legal troubles, both personal injury and criminal, can be devastating for a family. Voted a Top 40 Personal Injury "Super Lawyer"  multiple years, Mr. Bryant has also been voted one of the Top 100 Minnesota  "Super Lawyers" four times.