Every once in a while, we will get a person who comes into the office and they will tell us that an agent or even an adjuster has told them that they can't make a claim against a family member after a car accident. This is 100% incorrect.
If a family member is negligent (at fault) and due to that negligence a relative is injured, there is a claim after a motor vehicle accident. It's no different than if you never knew the person who caused the accident. The coverage is there to protect the at fault family member.
As with any accident, you will always have No Fault coverage to pay the needed medical , wage loss and replacement service benefits. However, the pain and suffering part of the claim will be covered through the liability part of the policy.
This is yet another example of where an experienced personal injury attorney can make sure that spouses, children and other relatives rights can be protected. As always, make sure you talk to someone knowledgeable before you sign off on a claim or give away the rights of your children.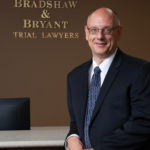 A founding partner with Bradshaw & Bryant, Mike Bryant has always fought to find justice for his clients—knowing that legal troubles, both personal injury and criminal, can be devastating for a family. Voted a Top 40 Personal Injury "Super Lawyer"  multiple years, Mr. Bryant has also been voted one of the Top 100 Minnesota  "Super Lawyers" four times.