Congratulations to my partner (and Top InjuryBoard Blogger) Mike Bryant on his latest verdict.
Mike's client was a very nice 43 year old woman who had been rear ended by a City of Minneapolis dump truck on I-94 in Maple Grove, Minnesota. The client suffered a Grade III AC "sprain" (shoulder separation) as well as some depressions in the front of her thighs where there had been bruises after the crash.
Originally diagnosed non-surgical, she eventually had outpatient surgery to repair the shoulder. The City claimed her surgery had excellent results, pointing out her 100% range of motion. They claimed she had little or no functional problems other than pain and self-limitations. The client, a very hard worker with a very positive attitude, lost little or no time from work. She worked from home for a very short time and then got right back to work after both the crash and the surgery.
Through six or seven before-and-after witnesses and about 15 or 20 photos, Mike was able to prove the very active lifestyle the client had had and that she regularly wore shorts before the crash.
The City of Minneapolis had offered $75,000 at mediation, and their final best offer was 95,000 at pretrial.
The verdict totalled $185,810.12, including $130,000 in pain, disability and emotional distress. Doubled costs and prejudgment interest will push the verdict well over $200,000.
This is an excellent victory for not only the client and Mike Bryant, but for all consumers!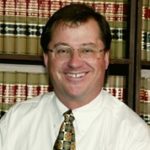 As a partner with Bradshaw & Bryant, Joe Crumley has over 20 years experience with the firm—helping injured people and their families to secure just and fair compensation. Excelling in personal injury litigation, Mr. Crumley has secured numerous record-setting verdicts and settlements and won accolades such as MTLA's "Trial Lawyer of the Year" and "Excellence" Awards.