you have a automobile collision, , you are hurt and make a claim. You are getting care and suddenly you get a letter from your no fault company saying that you must attend an IME (medical examination) to see if your care is "appropriate". The law of Minnesota says that if you don't go the examination, the company can suspend your benefits.
Some items to keep in mind:
– The law doesn't say they can suspend your benefits until you go. They need to have a reason for not paying.
– The examination needs to be within 30 miles of where you live.
– The examination should be with the type of doctor that you are seeking care from.
You really should consider calling a lawyer who does this type of work and going through your rights.
Sometimes, you will be sent to a group like MEI (medical evaluation Inc) , Evalumed, or Aspen Medical. These are groups of doctors who have gotten together to do this type of work for insurance companies.
A lawyer who does this work can tell you about the doctor you will be seeing.
Are they-
The type who acts real nice and then writes a report that is opposite?
Do they have a predisposition that no one is ever permanently injured or in need of care past a couple of weeks?
Are they the type who likes to make up what happened during the examination?
If you are going to an examination and are a woman who is seeing an unknown male doctor, it is only reasonable that you should have someone with you to make sure you are safe. At no time can they do something that physically injures you or sexually offends you.
Here is a video worth looking at:
http://www.youtube.com/watch?v=QMRi1Cn4L5c
There is no doctor-patient relationship, so don't expect fairness, a bedside manner, or anything that will resemble care. They get hired all the time to do this work. So when the doctor says:
" Let's talk for real" , " now you can tell me anything", or "don't worry I was hired as a independent examiner", always remember that they can an will use anything that you say against you.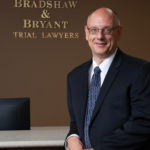 A founding partner with Bradshaw & Bryant, Mike Bryant has always fought to find justice for his clients—knowing that legal troubles, both personal injury and criminal, can be devastating for a family. Voted a Top 40 Personal Injury "Super Lawyer"  multiple years, Mr. Bryant has also been voted one of the Top 100 Minnesota  "Super Lawyers" four times.