I came upon a sign recently:
That got me thinking about a recent trip to the supermarket. I was pulling into the parking lot and ahead of me was a woman who was walking like she was drunk right down the middle of the lane. She was busy texting away on her phone. I saw her so she was safe from me. But, at least three backing cars almost got her, including the one that she almost walked right into.
There are a lot of things written here at the Injuryboard about driving and texting.
Grand Rapids Teenager Tragically Dies In Car Accident While Texting and Driving, David Mittleman | February 20, 2010 12:48 PM
Put the Brakes on Driving While Texting, David Mittleman | July 01, 2009 10:10 AM
Texting – More Deadly than Drunk Driving?, Joe Crumley, September 22, 2009 7:01 AM
Study Shows Texting While Driving Highly Dangerous, Rick Shapiro, July 29, 2009 8:00 PM
Texting By Drivers Proven to Be Extreme Hazard, Mark Williams, July 28, 2009 5:41 PM
Ignoring the Dangers of Texting While Driving May Lead to Serious Consequences, Will Parker July 30, 2009 4:53 PM
Texting and Driving – More Deadly than Drinking and Driving?, Jeremy Thurman, September 20, 2008 3:18 PM
Want to Text and Drive? Watch this First., Mike Bryant | July 11, 2011 9:19 AM
But, if you are walking near moving cars or dangerous vehicles, you are much better off to keep your head up and out of the cell as well.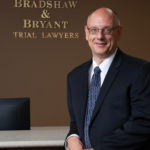 A founding partner with Bradshaw & Bryant, Mike Bryant has always fought to find justice for his clients—knowing that legal troubles, both personal injury and criminal, can be devastating for a family. Voted a Top 40 Personal Injury "Super Lawyer"  multiple years, Mr. Bryant has also been voted one of the Top 100 Minnesota  "Super Lawyers" four times.