In March, I posted a blog about watching out for police officers doing their job on the road. At that time, 31 squad cars had been hit on Minnesota roads. The advice was that drivers have to move over. It is a safety issue and it's the law.
In 1962, President John F. Kennedy designated May 15 as National Peace Officers Memorial Day and it was then established by a joint resolution of Congress. President Bill Clinton later signed a law that directs that the flag of the United States be displayed at half-staff on May 15 unless it falls on the same day as Armed Forces Day (May 16 this year). The idea has now been expanded to the whole week.
In Minnesota flags will be at half staff for Maplewood Sgt. Joe Bergeron who was killed on May 1, 2010, and Mahnomen County Deputy Christopher Dewey who passed away on Aug. 9, 2010. Both officers' families are dedicating their names at the National Law Enforcement Memorial in Washington, D.C., today.
Some facts concerning the week:
The first known line of duty death occurred in 1792, when a New York Deputy was gunned down. Since then, over 18,600 officers have died while performing their duties.
This year, the names of 387 fallen officers will be added to the National Law Enforcement Officers Memorial in Washington, D.C. That includes 133 officers who died in the line of duty in 2008, and 254 officers who died in previous years but had been lost to history.
In the U.S. between 1999 and 2008, 562 officers have died from gunshots, 482 from auto accidents, 154 were struck by vehicles and 78 were lost in terrorist attacks. Others died from job-related illnesses, bicycling and boating accidents, aircraft accidents and more. Eleven were beaten to death, 11 more stabbed to death. More than 20 drowned, 87 died in motorcycle crashes, eight were struck by falling objects, two were poisoned and one was strangled.
The National Peace Officers' Memorial Service, which is sponsored by the Grand Lodge of the Fraternal Order of Police, is one in a series of events that includes the candlelight vigil, which is sponsored by the National Law Enforcement Officers Memorial Fund and seminars sponsored by Concerns of Police Survivors.National Police Week draws in between 25,000 to 40,000 attendees.
So if you get a chance, take note of the half mast flags and give each officer room as you pass them on the road.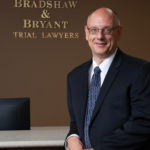 A founding partner with Bradshaw & Bryant, Mike Bryant has always fought to find justice for his clients—knowing that legal troubles, both personal injury and criminal, can be devastating for a family. Voted a Top 40 Personal Injury "Super Lawyer"  multiple years, Mr. Bryant has also been voted one of the Top 100 Minnesota  "Super Lawyers" four times.