Because every car accident is unique, so is every associated claim. As such, there's no standard timeline for resolving them. Ranging from a few weeks to a few years, their total duration depends on a variety of factors, most of which are out of the claimant's control.
If you're planning on filing a car accident claim and you're looking for some idea of what to expect along the way, consult a seasoned personal injury attorney. While a reputable lawyer will never make any guarantees since legal proceedings are inherently predictable, they can at least evaluate the circumstances of your case to determine the most likely timeline.
Let's take a look at the kinds of factors that will probably have the biggest impact on the duration of the proceedings:
1. The Severity of Your Injuries
Since won't know the extent of the damages until you've reached maximum medical improvement, you shouldn't accept a payout until your injuries are done being treated. If you make a full recovery in a matter of weeks, the severity of your injuries won't stall the proceedings much at all. If you sustained catastrophic injuries, however, it could be a year or more before you're ready to conclude the negotiations.
2. The Complexity of the Case
Some car accident claims are more complicated than others. If you were struck by a drunk driver while waiting at a red light, for example, your legal team probably won't have to do too much digging to gather evidence of liability. If, on the other hand, you collided with the vehicle ahead of you because your own brakes malfunctioned, your attorney may have to conduct an in-depth investigation at the manufacturing plant where the brakes were produced.
Naming multiple parties in your claim also increases its complexity. When more than one party is at fault for a wreck, it can extend the subsequent proceedings considerably because there are so many competing interests at play.
3. The Insurance Adjuster's Willingness to Negotiate
Most car accident claims are settled. When insurance adjusters recognize the validity of a particular case, they're usually inclined to negotiate because they want to keep the action out of court.
There are some scenarios, however, in which settling proves impossible. Whether the carrier disputes liability or challenges the claimant's credibility, they're sometimes unwilling to offer a fair payout.
When this happens, the injured party often has no choice but to file a formal lawsuit. Naturally, that can add months—and sometimes years—to the duration of the proceedings.
Discuss Your Claim with a Car Accident Attorney in St. Cloud
At Bradshaw & Bryant, we know what kind of toll unanticipated injuries can take on the whole family. If you were struck by a reckless driver, we'll help you take the steps needed to hold them accountable, so you can put your life back together. To set up a free case review with a car accident lawyer in St. Cloud, call 320-259-5414 or fill out our Contact Form.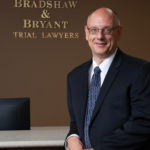 A founding partner with Bradshaw & Bryant, Mike Bryant has always fought to find justice for his clients—knowing that legal troubles, both personal injury and criminal, can be devastating for a family. Voted a Top 40 Personal Injury "Super Lawyer"  multiple years, Mr. Bryant has also been voted one of the Top 100 Minnesota  "Super Lawyers" four times.