10/31 – After you read this, look at the Updated Post here.
11/3/09 – Another update! DWI La-Z-Boy Isn't – Trademark Foul Kills E-Bay Auction at $43,500
_______________________________________________________
Drinking and driving is always a bad combination, but a Minnesota man has taken DWI in a more casual direction. Dennis LeRoy Anderson of Proctor, Minnesota (near Duluth), pled guilty Monday of DUI … while on a La-Z-Boy recliner!
The 61 year old Anderson had converted a La-Z-Boy recliner with wheels, a lawnmower engine, stereo, cupholders and headlights (see photo). Anderson does auto body work when he's not making furniture into hot rods.
Unfortunately, he had a lot too much to drink before climbing into his chair, registering a 0.29% blood alcohol content, 3-1/2 times the legal limit! Anderson left the Keyboard Lounge on August 31, 2008, hopped on his La-Z-Boy but promptly crashed it into a real car in the parking lot.
Deputy Police Chief Troy Foucault said the chair is "quite decked out." Along with the stereo and cup holders, it is powered by a converted lawnmower
with a Briggs & Stratton engine, a steering wheel, headlights and a power antenna.

Foucault estimated that the La-Z-Boy can top out at 15 to 20 miles per hour. A National Hot Rod Association sticker adorns the headrest.

The chair was impounded and will be sold at the next police auction.

"We have quite a few people calling about buying it," said Foucault, who half-seriously acknowledged that he's tempted to bid on it, except that "I have kids who would take it out and drive it on the street."
Anderson, with a prior conviction for drunken driving, was sentenced to 180 days in jail and a fine of $2,000.
Driving while drunk is serious business. As my partner Mike Bryant has written, drunk drivers can cause serious injuries to themselves and others.
Notice the ill-advised between-the-legs placement of that steering column/gearshift lever/whatever it is? I gotta think that "second collision" at 15-20mph could have caused more than "minor injuries." Ouch!
____________________________________________________________________
10/31 – Updated Post here.
11/3/09 – Another update! DWI La-Z-Boy Isn't – Trademark Foul Kills E-Bay Auction at $43,500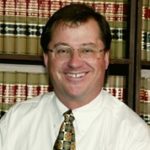 As a partner with Bradshaw & Bryant, Joe Crumley has over 20 years experience with the firm—helping injured people and their families to secure just and fair compensation. Excelling in personal injury litigation, Mr. Crumley has secured numerous record-setting verdicts and settlements and won accolades such as MTLA's "Trial Lawyer of the Year" and "Excellence" Awards.