I agreed with many that President Obama didn't seem to want to be there or was preoccupied for some reason. Maybe he never expected Romney to be very good? Or maybe since it was his anniversary, he shouldn't have been there anyway?
I was surprised with Romney's performance, but wonder if in the long run he will get much out of it. It has been the norm that the debate winner really hasn't been able to turn that into much of an effect on the election. Remember John Kerry doing well in each of the three debates?
I also wonder about who each of them are talking to. Many would say that it is the undecided. But, really is it? Seems that Romney really needs to fire up his base or at least the Republican base. So do agreement about what he will do on health care or the economy really do that? I know they aren't going to vote for Obama,but are they even going to come out? He doesn't seem to be talking to them.
President Obama has disappointed his base in a number of ways and they will be looking at the next two debates to see what he will do there.
I also will be watching the Vice Presidential debate, because Joe Biden is one of my favorite candidates that I ever worked for , but also because Paul Ryan really does need to fire up that base. Except, will he be freed up enough to actually say what he believes, considering he and Romney do differ in a number of areas?
Debates can be informative and do give the public a chance to see them side by side. Let's see what the next two give us.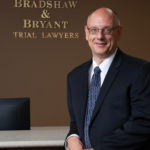 A founding partner with Bradshaw & Bryant, Mike Bryant has always fought to find justice for his clients—knowing that legal troubles, both personal injury and criminal, can be devastating for a family. Voted a Top 40 Personal Injury "Super Lawyer"  multiple years, Mr. Bryant has also been voted one of the Top 100 Minnesota  "Super Lawyers" four times.