Off and on, various members of the Injuryboard have been addressing the interesting ways that the U S Chamber has been attacking the right of individuals to bring claims to court. The continued attacks to duck responsibility with half truths and frivolous inaccurate stories.
Now they have a new effort. It's called the Campaign for Free Enterprise. Isn't their vision of free enterprise what got us into this mess? Aren't they the ones begging the government for bailouts? Maybe they missed what the country looked like a year ago when they had control of the White House.
This was my favorite quote:
"It is built on a system of incentives that offers opportunity and rewards for those who work hard and take risks."
What is the risk they want to take when the ask for preemption and tort reform to protect them from their wrong doing? Is it a reward to get government handouts? Don't be taken in by the misuse of the word "FREE". Just replace the F and add the money letters G D to to both ends.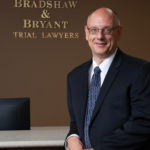 A founding partner with Bradshaw & Bryant, Mike Bryant has always fought to find justice for his clients—knowing that legal troubles, both personal injury and criminal, can be devastating for a family. Voted a Top 40 Personal Injury "Super Lawyer"  multiple years, Mr. Bryant has also been voted one of the Top 100 Minnesota  "Super Lawyers" four times.