I was intending to get to this issue earlier, but it took me a little while to get a copy of the billboard I've been driving by on I-94 this past month:
It's a product of the group that has been making a career out of running against Incumbent judges in Minnesota. Last campaign, one of them had a couple of exchanges on Facebook. Not because I didn't think they had a right to run, but because I called him on some of this kind of faulty campaigning.
Looking at the ad, you would assume that a right to vote against incumbent judges is about to change. Hogwash. There is legislation that would change the vote to a retention election, where you would vote yes or no on the incumbent, but there isn't any suggestion that there be no vote.
The difference would be that challengers wouldn't be in the race. So the group behind the billboard couldn't run against incumbent judges. Instead of saying that, they chose to come up with a misleading (giving them some credit) billboard to garner the sympathy of the uneducated voter.
Makes you wonder if they do win, what kind of judges would they be?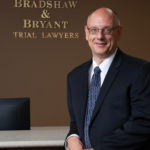 A founding partner with Bradshaw & Bryant, Mike Bryant has always fought to find justice for his clients—knowing that legal troubles, both personal injury and criminal, can be devastating for a family. Voted a Top 40 Personal Injury "Super Lawyer"  multiple years, Mr. Bryant has also been voted one of the Top 100 Minnesota  "Super Lawyers" four times.