In Minnesota we have a procedure that allows for loser pays. The concern I have always had is that our clients aren't allowed to sue the insurance company directly, they have to sue the person who caused the collision. The insurance company then gets to hide behind the person as they call the shots and then if the jury finds no threshold, the insurance company gets to pop out and collect their costs.
For a person who was offered nearly nothing, who is by agreement injured from the collision and not at fault, it is a brutal reality to have to them pay more money back to the company than they were offered. Include in that cost the price of the hired gun medical doctor who was used to create the myth that the client was all better. I bet the person wishes they were all better and that they never had to suffer through the case.
I saw recently that KRB is now going after 2 million in fees and $145,000 in costs against Jamie Leigh Jones. Wow, that's a lot of money and considering the facts of the case, it seems like KRB might be better off to take their win and head down the road. We know it took a bunch of political pressure to get her out of Iraq, but my guess is that wasn't because she was the loose woman they portrayed her as. I find it hard to believe, that they fought so hard to keep this out of litigation because they knew they were right. Seems like enough has been done to ruin her.
Now it's interesting that I did read some suggestions that the scumbag trial lawyer foots the bill. Guess what? That is what we do already. We pay the costs and get a fee if we recover. That is the deterrent that keeps us from taking the frivolous cases that the loonier claim we take.
This is a very tough system for a plaintiff. There is no magic money or jackpot justice. The reality is that they need to fight for every cent. Loser pays rewards those who least deserve it and who do the most to prevent justice.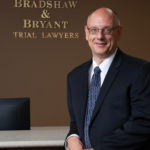 A founding partner with Bradshaw & Bryant, Mike Bryant has always fought to find justice for his clients—knowing that legal troubles, both personal injury and criminal, can be devastating for a family. Voted a Top 40 Personal Injury "Super Lawyer"  multiple years, Mr. Bryant has also been voted one of the Top 100 Minnesota  "Super Lawyers" four times.