In 1962, a new weed killer became a favorite among farmers and ranchers. Sold under the brand name Gramoxone, paraquat is a fast-acting herbicide that can kill a wide range of plants and effectively treat weeds resistant to Roundup and similar products. Even though paraquat has been popular for decades, health officials have raised concerns about the long-term health issues it can cause.
One of the reasons paraquat is so effective is because of its high toxicity. One small sip can be fatal, and there is no antidote if you are poisoned. While not common in the U.S., paraquat has been used for suicide in other countries, with pesticide ingestion being a leading cause of attempts. Paraquat has even been used for murder. In 1985, someone placed paraquat-laced drinks near vending machines in Japan. Twelve people were killed, and the murderer was never found. People have died due to accidental paraquat poisoning, too. As a result, paraquat marketed in the U.S. is dyed blue and has a strong smell so that it isn't confused with other beverages.
The European Union, Switzerland, South Korea, Brazil, and many other countries have banned paraquat, but it's still available in the United States. In the U.S., it's a restricted herbicide, which means you won't find it on the shelves of your local home and garden store. Instead, you must be a licensed pesticide applicator to use it. Requirements vary by state, and the Minnesota Department of Agriculture requires applicators to pass a written exam before they become licensed. But even when paraquat is in the hands of someone trained to apply it, it still poses a danger. Following proper safety protocol isn't foolproof, and people exposed to paraquat are at a higher risk for Parkinson's disease, wheezing, and other medical conditions. Researchers have even found a correlation between paraquat exposure and increased risk of leukemia, lymphoma, skin and brain cancer.
Common Methods of Paraquat Exposure
Ingesting paraquat is arguably the most deadly method of exposure. Swallowing the toxic chemical is extremely dangerous and causes acute kidney failure, lung scarring and seizures. If paraquat gets on your skin and you have a cut, sore or rash, you are in danger of being poisoned. Licensed applicators wear personal protective equipment like hazmat suits, goggles, and respirators to reduce the risk of exposure. However, these measures don't guarantee protection, and splashes to the skin and face do happen. 
Inhalation may be the most common cause of exposure for licensed applicators who work with the herbicide over a long period. Because paraquat is typically sprayed onto crops, applicators might breathe in small amounts without realizing it. Chronic exposure can affect the respiratory system and decreases lung function.
How To Know If You've Been Exposed 
If you drink paraquat, the prognosis is dire. While paraquat's manufacturer and the U.S. government have taken steps to reduce the chance of accidental ingestion, it still occurs. In one instance recorded by the U.S. Environmental Protection Agency (EPA), an 8-year-old boy died after drinking paraquat from a Dr. Pepper bottle. The boy's older brother was using the herbicide at home because a friend who was a licensed pesticide applicator gave it to him. Because there is no antidote for paraquat, the chances of survival are slim even with medical treatment.
Chronic paraquat exposure may be harder to pinpoint. Some sufferers don't realize they have been affected negatively by paraquat until they are diagnosed with serious conditions. Studies have shown that paraquat increases the risk of Parkinson's disease, an incurable brain disorder that causes nerve cell damage and eventually makes walking and talking impossible. About one million people in the U.S. live with Parkinson's, and some require care in nursing home facilities due to the extensive level of needed medical attention. 
Related: Understanding the Dangers of Weed Killer Paraquat
Paraquat's effectiveness isn't worth the health tradeoffs for many countries that have banned it, but the United States still allows distribution. Even though advocates for environmental safety and farmworker health have repeatedly asked the agency to reconsider, the EPA recently reapproved paraquat use. Given the government's acceptance of the herbicide and reluctance to stop distribution, it's unfortunately likely that more people will continue to suffer after exposure. 
If you or someone you know is experiencing health issues due to a paraquat exposure in Minnesota, the team at Bradshaw & Bryant can help you determine possible legal options. Call us at 800-770-7008 or contact us online for a free consultation with a St. Cloud personal injury attorney knowledgeable in dangerous product cases.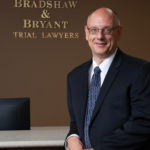 A founding partner with Bradshaw & Bryant, Mike Bryant has always fought to find justice for his clients—knowing that legal troubles, both personal injury and criminal, can be devastating for a family. Voted a Top 40 Personal Injury "Super Lawyer"  multiple years, Mr. Bryant has also been voted one of the Top 100 Minnesota  "Super Lawyers" four times.