In 2008, the FDA OKed the use of plastics for bottling and food packaging. It was as "The Graduate" one time proclaimed:
http://www.youtube.com/watch?v=T0EuJmuxnWQ
The Obama administration has now reversed itself and suggested that people should limit their exposure to bisphenol-A, or BPA, a widely used component. The concern is that studies have found harmful effects in animals, and on the recognition that the chemical seeps into food.
Interesting that a new administration that is watching out for consumers is changing the course. There have been 100 peer review studies that support this change. Clearly, there is a difference in the way dangerous products are being looked at.
A New York Times look at the issue noted the following suggestions:
throwing away scratched or worn bottles or cups made with BPA (it can leak from the scratches),
not putting very hot liquids into cups or bottles with BPA
checking the labels on containers to make sure they are microwave safe.
In September, researchers at the Yale School of Medicine found that the chemical bisphenol-A (BPA), causes the loss of connections between brain cells. "Our primate model indicates that BPA could negatively affect brain function in humans," said study co-author Tibor Hajszan, M.D., associate research scientist in Yale Ob/Gyn. "Based on these new findings, we think the EPA may wish to consider lowering its 'safe daily limit' for human BPA consumption."
Hopefully, the changes will be understood and followed by the American consumer. While there are questions about what the actual intake is for most consumers, it's clear that there is enough evidence to suggest that great care should be taken with the use of plastics. It's time that the 2010 Ben Murphy's look somewhere else for the future.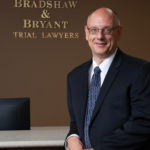 A founding partner with Bradshaw & Bryant, Mike Bryant has always fought to find justice for his clients—knowing that legal troubles, both personal injury and criminal, can be devastating for a family. Voted a Top 40 Personal Injury "Super Lawyer"  multiple years, Mr. Bryant has also been voted one of the Top 100 Minnesota  "Super Lawyers" four times.