In 2007, the FDA began exempting Beef Products Inc. from routine testing of meat used in hamburger sold to the general public . The exemption was credit for the companies development of a procedure of preventing E. coli bacteria by injecting the meat with ammonia. They had for eight years been working to sell beef that included fatty trimmings the industry once relegated to pet food and cooking oil. The New York Times reported last week government and industry records show that in testing for the school lunch program, "E. coli and salmonella pathogens have been found dozens of times in Beef Products meat."
Fast-food chains McDonald's Corp. and Burger King Holdings Inc. and agricultural conglomerate Cargill Inc. all use the meat in their hamburgers. All said they'll keep using the meat and that their products are safe.
It will be important to see what the return to testing will find. It seems like there are always questions about what past FDA officials were doing. Hopefully, the new administration will continue to correct these past mistakes. It really is amazing that we are talking about serving our kids food that from the sounds of it should have been tested.
It should come as no surprise that at the same time this is happening the Des Moines Register ran a guest column from Christopher Atchison and Michael Pentalla, from the Iowa College of Public Health, noting that a recent "rash" of food-borne illness has exposed the nation's food safety system as "woefully outdated." The piece called on Congress "to give the FDA the tools and resources, including financial support, necessary to ensure the food we eat in Iowa and across this country is safe."
If you suffer from food poisoning, you need to get immediate medical care. If it continues or there are long term affects, you should contact an attorney concerning the problem. Early investigation can include the collection of samples, checking for health alerts, and the proper notifying of those who caused the problem.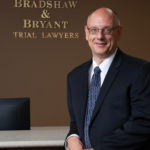 A founding partner with Bradshaw & Bryant, Mike Bryant has always fought to find justice for his clients—knowing that legal troubles, both personal injury and criminal, can be devastating for a family. Voted a Top 40 Personal Injury "Super Lawyer"  multiple years, Mr. Bryant has also been voted one of the Top 100 Minnesota  "Super Lawyers" four times.