In the Annals of Internal Medicine, professors form the College of Management at Georgia Institute of Technology in Atlanta have recommended that parents use measuring devices when giving medication to children.
"Previous work has already shown that the size of your mug or glass influences how much one pours," co-author Koert van Ittersum noted. "Just as the size of a plate influences how much one eats. So, here we have found that utensils also have an effect on dosing because our mind plays tricks on us. And so spoon size matters."
The concern is that household spoons are used and that there is not distinctions being made between tea and table spoons. The study tracked the dosing behaviors of 195 college students who had visited a university health clinic :
Each student was first asked to pour out exactly 5 milliliters of a liquid cold medicine, using a normal-sized teaspoon so they could clearly visualize how much that amount would be.

Following that exercise, each participant was randomly asked to attempt two more medicine pours: one into a medium-sized tablespoon and a second into an even larger spoon. Confidence levels were assessed to see how secure the students were in their ability to correctly pour the proper dosage.

Despite the fact that most students had "above average" confidence that they had poured accurate doses while using one or the other tablespoon, the authors found that dosages actually varied depending on the size of the spoon.

When using the medium-sized tablespoon, the students underdosed by more than 8 percent, on average. And when using the larger tablespoon, they overdosed by nearly 12 percent, on average.
Hopefully, the FDA will look at further warnings for liquid medicines and that parents will follow the advice of using the proper measurement devices.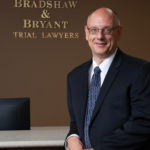 A founding partner with Bradshaw & Bryant, Mike Bryant has always fought to find justice for his clients—knowing that legal troubles, both personal injury and criminal, can be devastating for a family. Voted a Top 40 Personal Injury "Super Lawyer"  multiple years, Mr. Bryant has also been voted one of the Top 100 Minnesota  "Super Lawyers" four times.