It's been great to have a forum to talk about making the world safer, but even more important has been the opportunity to learn from Injuryboard posts by great lawyers across the country. Here's the list of what the most viewed pieces have been for 2011.
Tragic Roller Coaster Accident Leads Authorities to Question Ride Safety, David Mittleman | July 16, 2011 5:00 PM
Shark Attacks: Keep an Eye Out for Dorsal Fins Emily Mapp Brannon | July 27, 2011 9:56 AM
Bayer's Beyaz Birth Control Pill: New Name, Same Side Effects Brett Emison | January 20, 2011 11:45 AM
Acid Reflux Drugs Increase Risk of Broken Bones Jamie G. Goldstein | May 28, 2011 2:33 PM
The Dangers Associated With Gardasil Brad Hewett | June 28, 2011 8:32 AM
Victim of Brain Eating Amoeba Unknowingly Used Infested Water in Neti Pot Pierce Egerton | August 18, 2011 3:32 PM
Skechers Shape-Up Shoes Blamed For Hip Injuries Brett Emison | March 01, 2011 11:27 AM
Kyle Busch's speeding deserves severe consequences Lawrence Egerton | May 27, 2011 3:29 PM
Surgeons Urge Recall Of Zimmer NexGen Knee Replacements Brett Emison | January 27, 2011 11:04 AM
Brazilian Blowout – Where Are The Victims? Where Is The Outrage? Tor Hoerman | September 09, 2011 4:34 PM
I look forward to reading more of this great stuff in 2012.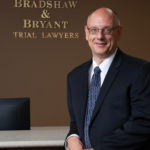 A founding partner with Bradshaw & Bryant, Mike Bryant has always fought to find justice for his clients—knowing that legal troubles, both personal injury and criminal, can be devastating for a family. Voted a Top 40 Personal Injury "Super Lawyer"  multiple years, Mr. Bryant has also been voted one of the Top 100 Minnesota  "Super Lawyers" four times.