I've written a number of times about concussions. We see them in our practice very often and they need to be taken seriously. Little bumps on the head have lead to serious brain damage and even death. The more the medical community looks at these injuries, the more damage is being found long term.
This past week, the New York Times looked into the long term affect of these injuries on former NFL players. They used a study from the University of Michigan's Institute for Social Research that interviewed 1,063 former players and found that 6.1 percent of players aged 50 and older reported that they had received a dementia-related diagnosis. The percentage is five times higher than the national average of 1.2 percent.
The NFL has been quick to point out that there are holes in the study, considering that it relies upon self reporting. They are presently working on their own study to look at the issue. But, looking at the concussion research out there already, it doesn't seem to be a big leap to the connections or at least to accept that there is enough of a concern that the issue needs to be looked into further.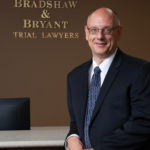 A founding partner with Bradshaw & Bryant, Mike Bryant has always fought to find justice for his clients—knowing that legal troubles, both personal injury and criminal, can be devastating for a family. Voted a Top 40 Personal Injury "Super Lawyer"  multiple years, Mr. Bryant has also been voted one of the Top 100 Minnesota  "Super Lawyers" four times.