Growing up, I suffered a diagnosed concussion on two occasions. Once when I got kicked in the head playing hockey and another time when I got hit in the head with a rock. Nothing serious, but I did get a day off from school. Alternatively , my brother had at least 5. Each was after he had laid someone out with a head first football tackle. I remember him one time telling me from his hospital bed , "You, should see the other guy". At one point, he received an award for being one of the hardest hitters his prep school had ever seen.
On going research is suggesting that greater care should be taken with childhood head injuries. The Center for the Study of Traumatic Encephalopathy (CSTE) at the Boston University School of Medicine has been studying deceased NFL players. Their conclusions are that concussions confer tremendous brain damage. That damage has a name: chronic traumatic encephalopathy (CTE). CSTE studies reveal brown tangles flecked throughout the brain tissue of former NFL players who died young — some as early as their 30s or 40s.
Apparently, the designers of Madden's 11 are listening. this week they announced:
Players that experience a concussion in Madden will be out for the entire game rather than them returning automatically or giving the user the option to reinsert them.
EA Sports confirmed there will also be special in-game commentary and game play circumstances that call attention to the seriousness of head injuries in a contact sport and the need to seek appropriate treatment.
Hopefully, this will lead to greater scrutiny of those who have already received concussions and also to prevent kids from getting their first ones. So far, my brother still seems to be OK, other than being the one who threw the rock, but hopefully coaches are no longer giving out awards based on the number of concussions kids are giving themselves.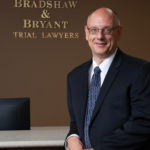 A founding partner with Bradshaw & Bryant, Mike Bryant has always fought to find justice for his clients—knowing that legal troubles, both personal injury and criminal, can be devastating for a family. Voted a Top 40 Personal Injury "Super Lawyer"  multiple years, Mr. Bryant has also been voted one of the Top 100 Minnesota  "Super Lawyers" four times.