A couple of weeks back, I wrote about some ideas for reducing head injuries in football:
Ten Ideas Concerning NFL Concussions that Should be Looked At, Mike Bryant | July 03, 2012 9:32 AM
I received some very interesting feedback that took me to two websites that are really worth spending time with. The first website came from a comment to the article. Mahercor Laboratories, LLC has an extensive site that covers the available mouth guards that can be used to prevent head injury:
Since its development, no NFL Player wearing any products
in our product line has ever succumbed to a concussion from a blow to the jaw!
They include extensive research and links for learning more about potential injuries and most importantly prevention.
The second site came from an email I got from former NFL player Dave Pear. He has another great resource at his website. The website is packed with all sorts of resources from not only his own experience, but from research from all over the world.
The two sites show us two major eliminators in dealing with sports concussions. One looks to invocation to protect future athletes and the other reminds us of what a poor job we have done to this point in that protection. In the big picture, hopefully they will each contribute to the prevention of injury and the proper help and protection for those who weren't taken care of.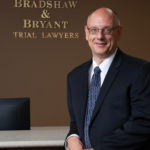 A founding partner with Bradshaw & Bryant, Mike Bryant has always fought to find justice for his clients—knowing that legal troubles, both personal injury and criminal, can be devastating for a family. Voted a Top 40 Personal Injury "Super Lawyer"  multiple years, Mr. Bryant has also been voted one of the Top 100 Minnesota  "Super Lawyers" four times.