This past week, saw a victory for consumers with the U S Supreme Court's decision in Wyeth v. Levine. Basically, the decision allowed state law to stand in cases against drug manufactures. It's time the court also looks at the use of preemption to protect those injured by medical devices.
The issues is one of preemption. A topic that members here at the Injuryboard have spent a lot of time on. Do federal laws and regulations preempt state laws? It's a question of state's rights and if individual states can set the laws to protect their own citizens. It's also a question of who's making the laws. Presently, big business is being protected by eight years of pointed regulations that were meant to shield them from liability.
The argument they make is that without the certainty of one national law, they won't make the devices. That they need to rely upon the FDA to grant approval or the system won't work. Taking part in a cost-benefit analysis that includes that though the patients "injured by medical devices make for great news stories…patients who don't get the devices that never made it to the market because of the risk of litigation won't get the same attention" and "will just die."
Recently, a local federal court threw out the cases of thousands of patients with heart-defibrillator wires that have been shown to fracture and dispatch potentially lethal shocks. The court reasoned that despite the injuries, preemption was the law of the land. Hopefully, this new ruling will be extended to recognize that there are individual states that make up that land.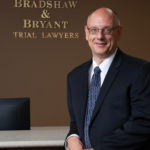 A founding partner with Bradshaw & Bryant, Mike Bryant has always fought to find justice for his clients—knowing that legal troubles, both personal injury and criminal, can be devastating for a family. Voted a Top 40 Personal Injury "Super Lawyer"  multiple years, Mr. Bryant has also been voted one of the Top 100 Minnesota  "Super Lawyers" four times.