There was a very interesting article in the New York Times a couple of months back about doctors saying "Sorry". Now , some would say that I'm not a lawyer who gets it, because I question when they want to say sorry but want it to be a shielded "Don't use it against me" statement.
Putting that aside, I was alerted to a very interesting statement in the article:
"We have given patients no alternative but to sue, and then we use the fact that they sue to show how opportunistic and awful they are."
This is from Rick Boothman , from the Department of Surgery at the University of Michigan.
This is the path to true tort reform. Treat people properly, admit your mistakes and make sure that their wrong has an adequate remedy. I can see the plaintiff bar shrinking as I write this.
What drives most people into our office? The loss of dignity that comes with being lied to by doctors and treated like criminals by insurance companies. Many of them just want what they lost back. Maybe, one of these days the powers that be on the "attack the lawyer" bandwagon will get that.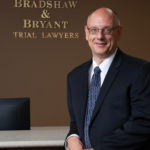 A founding partner with Bradshaw & Bryant, Mike Bryant has always fought to find justice for his clients—knowing that legal troubles, both personal injury and criminal, can be devastating for a family. Voted a Top 40 Personal Injury "Super Lawyer"  multiple years, Mr. Bryant has also been voted one of the Top 100 Minnesota  "Super Lawyers" four times.