Last month, I looked at the blog Minnesota Orthopedic Surgeon, Lance Silverman, M.D with:
Take A Look At This Great Website About Feet, Mike Bryant | January 23, 2013 9:25 AM
Since then I have seen a number of great posts. Here are a couple more that I would point out:
– They are now looking at X-rays that may be able to identify criminals by their knees:
Computer scientist Lior Shamir published his ideas in the International Journal of Biometrics, proposing that an MRI system could scan the legs of people as they walk through a specified area. The system would map bone structure in the knee and leg, and compare it to biometric records in the computer's software.
This seems like anamazing advance. Unless there was suddenly a run on knee replacements, it really could be a law enforcement advancement that would be very hard to get around.
– How about a surgeon looking at the top 10 medical errors that changed the standard of care:
Much like you and me, doctors aren't perfect. We love to believe that the people operating on our bodies never make mistakes, but that's not the case. Although mistakes are made, sometimes they shift the medical landscape and save countless lives down the road
– Finally, a look at the federal restrictions on hand written prescriptions only for Vicodin:
I prescribe schedule II narcotics regularly for post-op pain control. I understand the addictive potential and I am crystal clear with my patients about it. I will not give refills. Instead, I instruct my staff to call in a prescription one time for Vicodin if they still have residual pain to help them wean off the stronger drugs. Now it looks like my patients will have to drive hundreds of miles across the state for that 30 pill Rx that I have made part of the weaning routine.
This is some real insight, beyond simple medical talk. As I said before, this is a great blog to be keeping track of.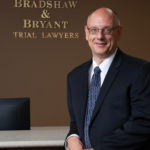 A founding partner with Bradshaw & Bryant, Mike Bryant has always fought to find justice for his clients—knowing that legal troubles, both personal injury and criminal, can be devastating for a family. Voted a Top 40 Personal Injury "Super Lawyer"  multiple years, Mr. Bryant has also been voted one of the Top 100 Minnesota  "Super Lawyers" four times.