This week, the U S Senate will be debating the Heath care bill. It is expected that the usual Republicans will spend most of their time trying to add amendments to change the civil justice system. To cap damages and bar the courtroom door to the average American. It's the old Bush/Rove plan to attack the lawyers.
They will not want to talk about what is really going on. There is no question that America's health care system is in crisis. Over 40 million people are without health insurance and costs are skyrocketing. Harvard researchers published a paper that concluded that illness or medical bills contributed to 62 percent of bankruptcies in 2007, up from about half in 2001. More than three-fourths of those with medical debt had health insurance.
The focus should be on how to fix the system. How to lower costs and cover the uninsured. So-called tort reform, or limiting patients' legal rights, will not accomplish either of these goals. It will only make it harder for those injured through no fault of their own to seek recourse.
According to the Institute of Medicine, 98,000 people die every year from preventable medical errors, with countless more severely injured. Congress must put patients first, and not bargain away people's legal rights.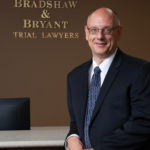 A founding partner with Bradshaw & Bryant, Mike Bryant has always fought to find justice for his clients—knowing that legal troubles, both personal injury and criminal, can be devastating for a family. Voted a Top 40 Personal Injury "Super Lawyer"  multiple years, Mr. Bryant has also been voted one of the Top 100 Minnesota  "Super Lawyers" four times.