Not long ago, I wrote about the hollowness of so much of the healthcare opposition:
The Heath Care Fight Continues, Mike Bryant | July 28, 2012 9:06 AM
The reality is that the debate should really only be about how we get all consumers covered. OK, there will be those who don't want to be covered, but don't go off on a tangent to get away from the reality that if they are injured and don't have coverage, the tax payer does pick up the bill.
The Dark Knight tragedy is an example of what is going on in the real world. You have many people who were horribly injured. There may or may not be a real party at fault with assets to cover any claims. So it is an unexpected, uncovered, violent event that causes a lot of injury.
Nearly one in three Colorado, or about 1.5 million, either have no health insurance or have coverage that is inadequate, according to a 2011 report by The Colorado Trust, a health care advocacy group.

The highest uninsured rate was among adults between 18 and 34. Many of those injured in the shootings are in that age group.
As the averages suggest, there were many involved who had no coverage or cheap limited coverage that leaves them virtually uncovered.
This is where the debate should be centered. Any plan or idea or opposition should include a goal of covering the consumer.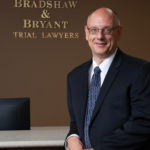 A founding partner with Bradshaw & Bryant, Mike Bryant has always fought to find justice for his clients—knowing that legal troubles, both personal injury and criminal, can be devastating for a family. Voted a Top 40 Personal Injury "Super Lawyer"  multiple years, Mr. Bryant has also been voted one of the Top 100 Minnesota  "Super Lawyers" four times.