The conservative blogs are loaded with talk of tort reform. We here at the Injuryboard continue to write about it. Guess the claim that no one is talking about it, is not only false, but intentionally misleading. It's interesting, how many of these posts get a comment with a link to the town hall site, which is claimed to have all of the answers. I spent some time looking at the link and it really does defy logic.
There is a section on defensive medicine and the very next section is entitled: "There Is No Proof That Threats of Litigation Deters Injuries" . What?????????????????? The reality is that while they use some facts, they stretch those facts and push frivolous arguments to come to a conclusion that fits for them. Even their damages charts distort the numbers to include extra fees that I would guess is the defensive medicine that actually the plaintiff was injured from. I would expect the executive compensation or medical charges costs includes even less for the injured consumer.
If you still have questions spend a little time with the American Association for Justices paper on the issue of the defensive medicine claim.
Ask the tough questions:
What tests are doctors doing that are actually not needed?
Have they ever found cancer or other medical life threatening issues with those tests?
Who got the money for those tests?
Why are so many people still dying in American hospitals?
Would more tests actually reduce the number of claims and keep more consumers alive?
My guess is that anyone claiming the existence of these tests really won't want to answer these questions. Mainly, because it simply doesn't happen and if it does they are involved in FRAUD. But, let's keep talking about it.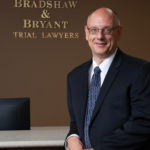 A founding partner with Bradshaw & Bryant, Mike Bryant has always fought to find justice for his clients—knowing that legal troubles, both personal injury and criminal, can be devastating for a family. Voted a Top 40 Personal Injury "Super Lawyer"  multiple years, Mr. Bryant has also been voted one of the Top 100 Minnesota  "Super Lawyers" four times.